Upcoming Tours
---
Dimmu Borgir
SOUNDWORKS DIRECT PRESENTS DIMMU BORGIR Australia / New Zealand 'UNVEILING' Tour, October 14 - 21, 2018
From the dark corners of Norway, the beast has surfaced. After 25 years, the world's biggest black metal forge, DIMMU BORGIR, invades Australia & New Zealand for their first ever headlining tour. Casting shows that will viciously attack your senses whilst pushing them to their ultimate limits and showcasing the might and power of one of the most influential acts of the genre.
Conceived in the heart of the Norwegian black metal scene in 1993, DIMMU BORGIR quickly broke free from the boundaries of the genre, daring to combine a traditional raven black sound with opulent symphonic orchestration. Soon they turned into pioneers of their field, forging groundbreaking albums such as Enthrone Darkness Triumphant (1997), Spiritual Black Dimensions (1999), or Death Cult Armageddon (2003). Seven years have passed since their latest manifesto Abrahadabra, they are now returning to rip apart the space-time continuum with Eonian.
'Australia! It's been a long time coming and believe us when we proclaim pure excitement in returning to perform for you, our supportive fans! And, New Zealand, it's with a pleasure that we can finally announce our first time to your shores - let's make it a very special happening! We have all been waiting impatiently!' See you all soon! - Silenoz/Dimmu Borgir
Australia's blackened death metal machine EARTH ROT have landed the main and only support for the massive upcoming DIMMU BORGIR tour in October. With an old-school undercurrent and a sense of grim relentless groove. It is hateful, harmful, sinister and melancholy noise shaped by the world around you. Since the early stirrings in 2014, EARTH ROT have pulled no punches, recording, releasing and touring at full speed across Europe, Australia and Asia and show absolutely no intent of slowing down.
DIMMU BORGIR with guest EARTH ROT performing at:
October 14th - Auckland, The Studio
October 16th - Melbourne, 170 Russell
October 17th - Melbourne, 170 Russell SOLD OUT
October 19th - Brisbane, Eatons Hill
October 21st - Sydney, The Metro
TICKETS ON SALE:
AUCKLAND - www.utr.co.nz / www.valhallatouring.com
MELBOURNE - http://soundworksdirect.eventbrite.com / www.170russell.com
BRISBANE - http://soundworksdirect.eventbrite.com / www.oztix.com.au
SYDNEY - www.ticketek.com.au
www.dimmu-borgir.com
www.facebook.com/dimmuborgir
www.nuclearblast.de
www.soundworkstouring.com
www.directtouring.com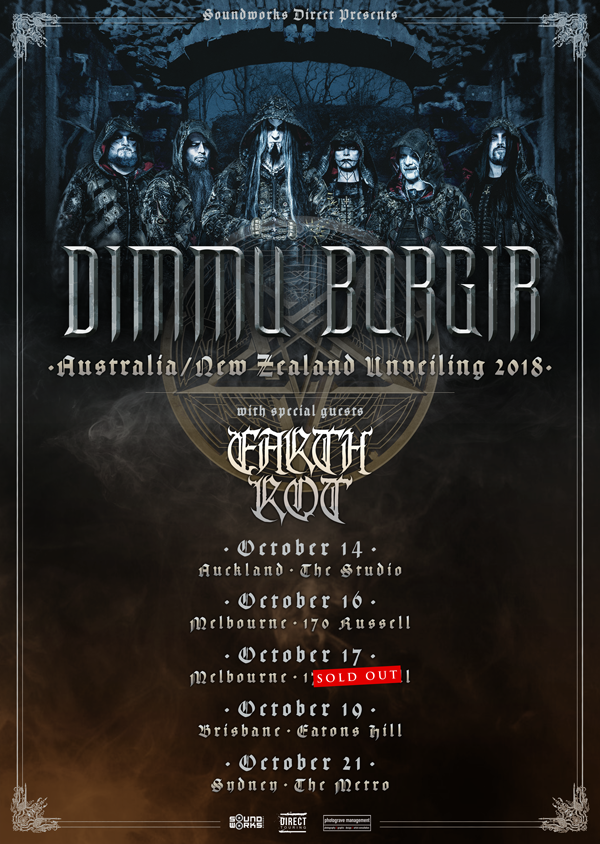 ---