Upcoming Tours
---
Emperor
SOUNDWORKS DIRECT PRESENTS EMPEROR 'ANTHEMS TO THE WELKIN AT DUSK'
Australia, April 2019
Eventually there comes a time when the hype about a band becomes superfluous, and their status alone speaks volumes. Such is the case with EMPEROR, the black metal gods hailing from Telemark, Norway. EMPEROR has become known as one of the originators of symphonic Black Metal that Norway is internationally renowned for.
The wait has been long, but the time has come for Australian fans.
In two exclusive shows only and never to be repeated in this territory, EMPEROR perform the entire 'Anthems To The Welkin At Dusk' album. One of the most ambitious and important black metal releases to date.
Australia, you now have your chance to embrace the epic savagery.
"Australian hordes!
We are finally coming your way.
April 2019 it is - hope to see you all there!
Emperial regards, Ihsahn, Samoth, Trym"
April 2nd - Sydney, Metro Theatre – SELLING FAST
April 3rd - Melbourne, 170 Russell – SOLD OUT!!!
April 5th - Melbourne, 170 Russell – SECOND SHOW
Strictly limited VIP Meet And Greet Bundle deal available!
VIP TICKETS ON SALE at:
MELBOURNE - http://soundworksdirect.eventbrite.com only
GA TICKETS ON SALE at:
SYDNEY - www.ticketek.com.au
MELBOURNE - http://soundworksdirect.eventbrite.com / www.170russell.com
www.emperorhorde.com
www.facebook.com/emperorofficial
www.soundworkstouring.com
www.directtouring.com
www.heavymetalmerchant.com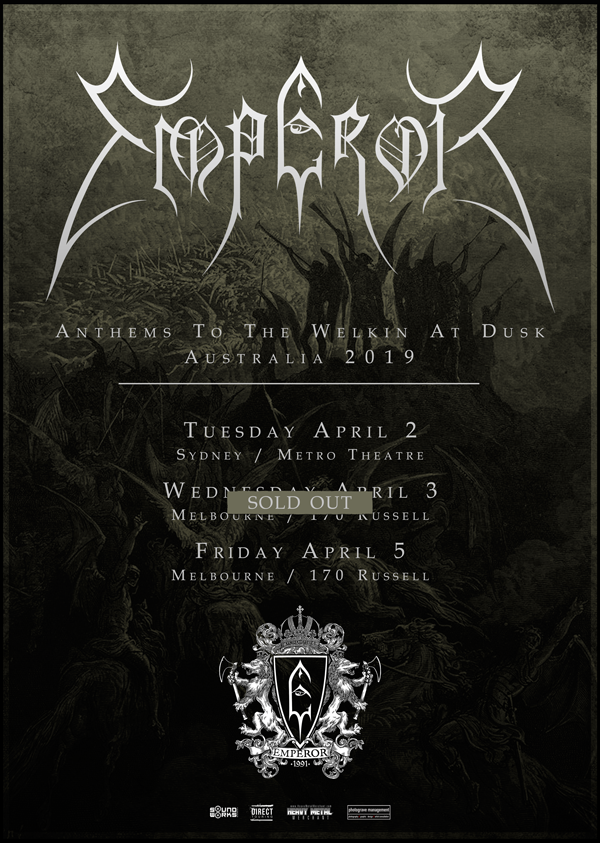 ---