Upcoming Tours
---
Philip H Anselmo & The Illegals, King Parrot, Palm, Potion
SOUNDWORKS DIRECT PRESENTS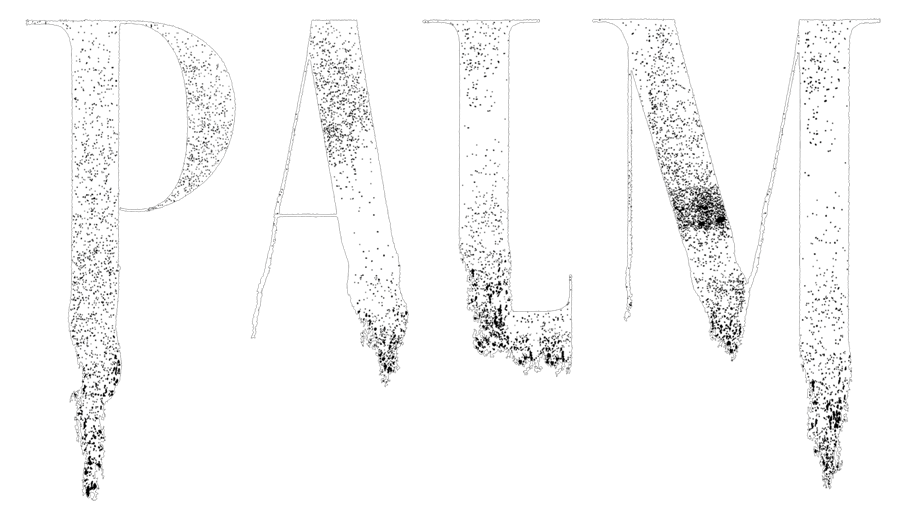 Thrash Blast Grind Tour – Australian Tour March 21 – 31, 2019
PHILIP H. ANSELMO & THE ILLEGALS (USA) + KING PARROT
with special guests: Palm (Japan) & Potion
THRASH BLAST GRIND TOUR is back to appease the eyes and ears of metalheads all over Australia in March & April 2019! This new edition will be headlined by none other than the legendary Philip H. Anselmo and The Illegals on his first visit to Australia in over 5 years. He'll be blasting powerhouse anthems from his days in Pantera, alongside cuts from his latest solo album "Choosing Mental Illness as a Virtue" and its predecessor "Walk Through Exits Only".
"I'm looking forward to getting back over to Australia & soaking up the killer vibes...touring with King Parrot on their turf is an honour...let the absurdities commence!" Phil Anselmo.
Joining Philip H. Anselmo and The Illegals on their debut Australian shows will be Housecore Records label mates and Aussie grind road dogs King Parrot who are fresh off the back of a US tour and an ARIA nomination for their brutally savage 2017 grind opus "Ugly Produce".
Making the journey all the way from Japan will be the highly revered hardcore-metal crossover act Palm, who return to our shores for the 2nd time with their brilliant new album "To Live is to Die, To Die is to Live" out now on EVP Recordings.
Sydney's newest exponents of all things doom, Potion round out the tour package and are a welcome addition to this monstrously savage line-up. Staying true to the tradition of Thrash Blast Grind, one local act will be hand-picked for each date to showcase the best in up and coming heavy music in Australia.

March 21st - The Basement, Canberra
March 22nd - Max Watts, Melbourne - SOLD OUT!!!
March 23rd – SLAYFEST, Amplifier Capitol, Perth
March 24th - Enigma Bar, Adelaide - SOLD OUT!!!
March 25th - Enigma Bar, Adelaide w/ Voros*
March 28th - The Back Room, Brisbane
March 29th - The Back Room, Brisbane - SOLD OUT!!!
March 30th - The Factory, Sydney - SOLD OUT!!!
March 31st - The Cambridge, Newcastle
April 1st - Frankie's Pizza w/Black Rheno*
April 4th - The Corner, Melbourne w/ Black Rheno*
April 5th - The Brisbane Hotel, Hobart w/Black Rheno* SOLD OUT!!!
TICKETS ON SALE NOW at:
ADELAIDE - http://soundworksdirect.eventbrite.com / www.moshtix.com.au
CANBERRA, MELBOURNE - http://soundworksdirect.eventbrite.com
PERTH, BRISBANE - http://soundworksdirect.eventbrite.com / www.oztix.com.au
NEWCASTLE - http://soundworksdirect.eventbrite.com / www.ticketbooth.com.au
www.facebook.com/Philipillegals
www.kingparrot.net
www.facebook.com/palmjpn
www.facebook.com/potionband
www.facebook.com/blackrheno
www.soundworkstouring.com
www.directtouring.com
www.heavymetalmerchant.com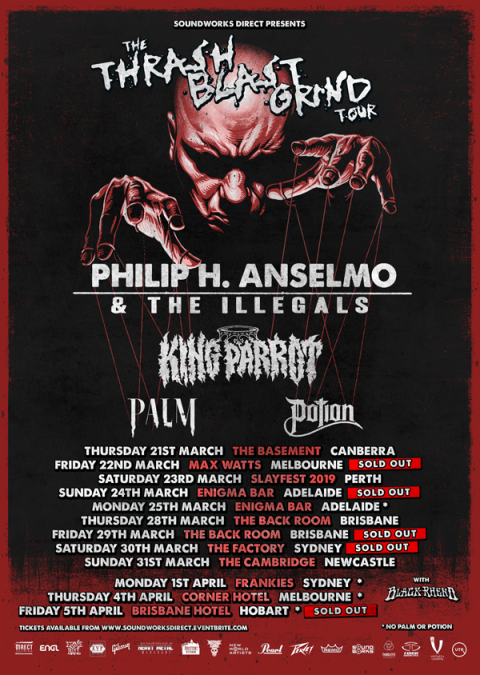 www.facebook.com/Philipillegals
www.kingparrot.net
www.facebook.com/palmjpn
www.facebook.com/potionband
www.soundworkstouring.com
www.directtouring.com
www.heavymetalmerchant.com
---