Upcoming Tours
---
Psycroptic, Archspire, Hadal Maw
SOUNDWORKS DIRECT PRESENTS



PSYCROPTIC, ARCHSPIRE, HADAL MAW Australian Tour, August 16 - 25, 2018

Isolation can often result in unique outcomes. Hailing from the tiny, frosty, untamed and detached Australian state that is Tasmania, PSYCROPTIC have become an unparalleled act in an enigmatic worldwide movement commonly known as death metal. Since their formation in 1999, the band having released 6 critically acclaimed studio albums, all which show an organic progression along a clandestine path from which they will never stray. Powering their way to the top of Australian metal scene in the early 2000's, PSYCROPTIC to this day still reign supreme and show no sign of relinquishing that hard earned position at any time soon.
Canadian technical death outfit ARCHSPIRE exude talent, drive, creativity, and absolute dedication. A tight live performance, where impressive speeds come grinding to a halt, and in even less time twist and contort into complex passages rife with beautiful harmonies, juxtaposed against insidious melodies. An attention to song writing, focusing not only on technicality, but originality as well, take this sub genre and put it on it's ear. When all the elements required align in such a way that they form something original, and interesting, it becomes a catalyst for something new... and in the case of ARCHSPIRE, all has indeed, aligned.
Emerging onto the Australia live metal scene in late 2012, HADAL MAW have remained a talking point in the conversation on technical metal with their contributions of critically acclaimed albums "Senium" and "Olm", which earned them places on the stage alongside the likes of Decapitated, Suffocation, Ne Obliviscaris, Beyond Creation and many more. This tour will see the debut of their latest work "Charlatan", an effort to drive the darkest elements of their practice to the forefront of their sound and realize a vision of creating the most oppressive sound in the genre.
PSYCROPTIC, ARCHSPIRE & Hadal Maw performing at:
August 16th - Brisbane, Crowbar w/Kaerulean
August 17th - Sydney, Bald Faced Stag w/Heathenspawn
August 18th - Melbourne, Max Watts w/Primitive
August 19th - Canberra, The Basement w/Inhuman Remnants
*August 24th - Hobart, Brisbane Hotel w/Zeolite, The Absolution Sequence
*August 25th - Adelaide, Fowlers w/Voros, In The Burial, Oath Of Damnation, Temple Of Athena
**August 26th - Perth, Amplifier w/Grotesque, Unravel
(*Hadal Maw not appearing)
(**Archspire headline show only)
TICKETS ON SALE now at:
ALL SHOWS - http://soundworksdirect.eventbrite.com
Brisbane, Melbourne, Hobart, Perth - www.oztix.com.au
www.facebook.com/psycroptic
www.facebook.com/Archspireband
www.facebook.com/hadalmaw
www.directtouring.com
www.soundworkstouring.com
www.heavymetalmerchant.com
www.utopia.com.au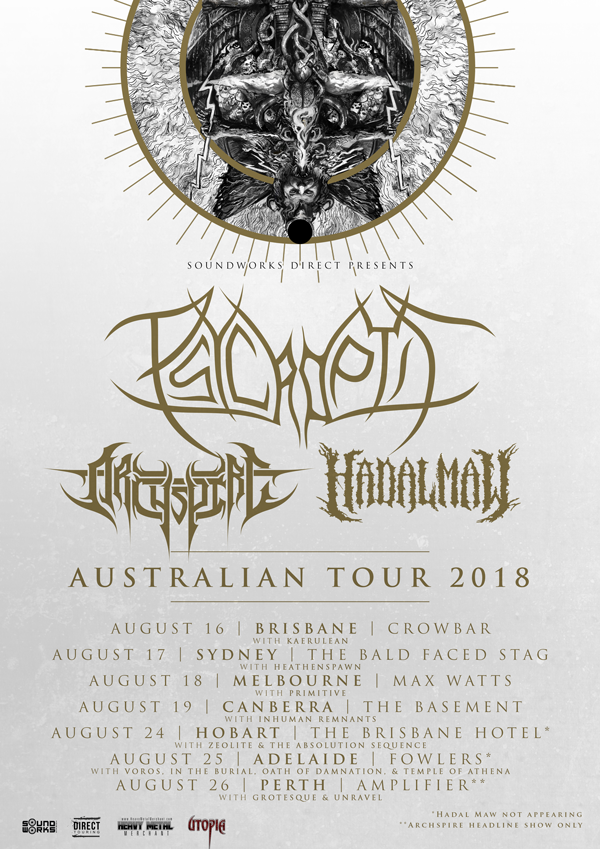 ---
Dimmu Borgir
SOUNDWORKS DIRECT PRESENTS DIMMU BORGIR Australia / New Zealand 'UNVEILING' Tour, October 14 - 21, 2018
From the dark corners of Norway, the beast has surfaced. After 25 years, the world's biggest black metal forge, DIMMU BORGIR, invades Australia & New Zealand for their first ever headlining tour. Casting shows that will viciously attack your senses whilst pushing them to their ultimate limits and showcasing the might and power of one of the most influential acts of the genre.
Conceived in the heart of the Norwegian black metal scene in 1993, DIMMU BORGIR quickly broke free from the boundaries of the genre, daring to combine a traditional raven black sound with opulent symphonic orchestration. Soon they turned into pioneers of their field, forging groundbreaking albums such as Enthrone Darkness Triumphant (1997), Spiritual Black Dimensions (1999), or Death Cult Armageddon (2003). Seven years have passed since their latest manifesto Abrahadabra, they are now returning to rip apart the space-time continuum with Eonian.
'Australia! It's been a long time coming and believe us when we proclaim pure excitement in returning to perform for you, our supportive fans! And, New Zealand, it's with a pleasure that we can finally announce our first time to your shores - let's make it a very special happening! We have all been waiting impatiently!' See you all soon! - Silenoz/Dimmu Borgir
Australia's blackened death metal machine EARTH ROT have landed the main and only support for the massive upcoming DIMMU BORGIR tour in October. With an old-school undercurrent and a sense of grim relentless groove. It is hateful, harmful, sinister and melancholy noise shaped by the world around you. Since the early stirrings in 2014, EARTH ROT have pulled no punches, recording, releasing and touring at full speed across Europe, Australia and Asia and show absolutely no intent of slowing down.
DIMMU BORGIR with guest EARTH ROT performing at:
October 14th - Auckland, The Studio
October 16th - Melbourne, 170 Russell
October 17th - Melbourne, 170 Russell SOLD OUT
October 19th - Brisbane, Eatons Hill
October 21st - Sydney, The Metro
TICKETS ON SALE:
AUCKLAND - www.utr.co.nz / www.valhallatouring.com
MELBOURNE - http://soundworksdirect.eventbrite.com / www.170russell.com
BRISBANE - http://soundworksdirect.eventbrite.com / www.oztix.com.au
SYDNEY - www.ticketek.com.au
www.dimmu-borgir.com
www.facebook.com/dimmuborgir
www.nuclearblast.de
www.soundworkstouring.com
www.directtouring.com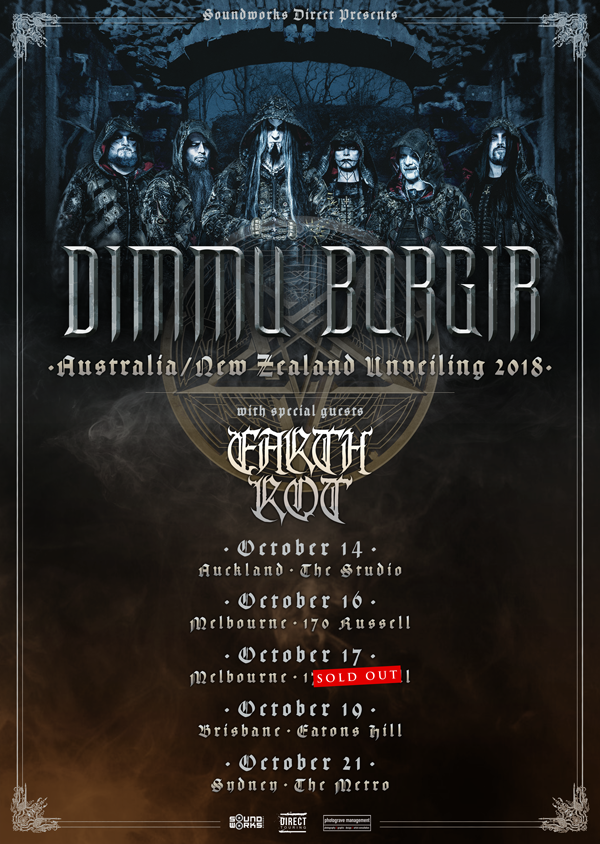 ---
2CELLOS
2CELLOS
THE SCORE & MORE 2018 AUSTRALIA & NEW ZEALAND TOUR
TAKING FANS TO THE MOVIES WITH NEW ALBUM SCORE
TEG Dainty, Nice Events and Soundworks Touring are excited to announce that music's most electric and dynamic instrumental duo will tour Australia & New Zealand this November/December. 2CELLOS will bring their game-changing sound and style to the most popular melodies ever written for classic and contemporary movies and television with The Score & More Tour.
The tour opens up in Perth on Friday 23 November, and moves on to Melbourne on Saturday 24 November, Adelaide on Monday 26 November, Sydney on Wednesday 28 November, Gold Coast on Friday 30 November and Brisbane on Sunday 2 December before winding up in Auckland on Monday 3 December.
Tickets go on sale at 10am local time on Wednesday 20 June for the seven-city tour.
2CELLOS recently performed at the UEFA Champions League Final to an estimated global audience of 350 million, entertaining viewers with the UEFA Champions League anthem and a cover of the White Stripes' "Seven Nation Army" at the Olimpiyskiy Stadium in Kiev, Ukraine.
The young Croatian cellists (Luka Sulic and Stjepan Hauser) continue to soar worldwide, taking the cello to unimagined heights with their incredible talent and undeniable passion. Their playing style breaks down the boundaries between different genres of music, from classical and film to pop and rock. 2CELLOS have no limits when it comes to performing live–equally as impressive playing Bach and Vivaldi as they are rocking out to AC/DC and Iron Maiden.
The pair first gave local fans a taste of their fourth album Score during a spectacular performance filmed live at the Sydney Opera House in 2016 (watch here), ahead of its 2017 release. Now–off the back of two wildly successful past tours–they're headed back to an eagerly awaiting AUS/NZ fan base with The Score & More Tour.
Score celebrates the most popular and enduring music ever written for classic and contemporary movies and television. Exploring a more traditional musical sound, 2CELLOS recorded Score in summer 2016 with the London Symphony Orchestra, with conductor/arranger Robin Smith at the helm. Sulic and Hauser also co-produced Score with Nick Patrick (Jackie Evancho, Il Divo, Plácido Domingo).
In advance of the release of Score, the first video from the album–a medley of themes from Game of Thrones–racked up over 5 million views on YouTube (now 22 million+ views). Score also features memorable themes from The Lord of the Rings, Gladiator, Titanic, Braveheart, The Godfather, Cinema Paradiso, Breakfast at Tiffany's, Schindler's List and many more, by some of Sulic and Hauser's favourite, Oscar-winning composers such as Hans Zimmer, James Horner, Ennio Morricone, John Williams and Henry Mancini.
2CELLOS rose to fame in 2011 when their version of Michael Jackson's "Smooth Criminal" took the world by storm. The YouTube video became a massive viral hit leading to a record deal with Portrait/Sony Music Masterworks and an invitation to join Sir Elton John on his worldwide tour.
Their third album Celloverse debuted at #1 on both the Billboard Classical and Classical Crossover charts, as well as charting in the Billboard Top 200. The world tour that followed the release of Celloverse resulted in 42 sold-out dates and a captivated AUS/NZ audience. The viral video for "Thunderstruck" from that album has racked up more than 119 million views to date on YouTube.
They were the first instrumentalists to be featured on Glee and have appeared multiple times on The Today Show and The Ellen DeGeneres Show in addition to The Tonight Show and The Bachelor Live Wedding Special among others.
Aside from their huge following online where their new YouTube hits continue to amaze, 2CELLOS' main focus is performing live. In addition to many sold-out solo tours, the duo has performed in such prestigious venues and events as Madison Square Garden, Paris Olympia, Queen's Diamond Jubilee, and the Emmy Awards. Onstage, their collaborators have included the Red Hot Chili Peppers, Queens of the Stone Age, George Michael and Lang Lang.
TOUR DATES:
PERTH Friday 23 November – Riverside Theatre
MELBOURNE Saturday 24 November – Plenary, Melbourne Convention & Exhibition Centre
ADELAIDE Monday 26 November – AEC Theatre
SYDNEY Wednesday 28 November – ICC Sydney Theatre
GOLD COAST Friday 30 November – Gold Coast Convention & Exhibition Centre
BRISBANE Sunday 2 December – Great Hall, Brisbane Convention & Exhibition Centre
AUCKLAND Monday 3 December – The Civic
General public tickets on-sale date:
10am local time on Wednesday 20 June from www.tegdainty.com
Find 2CELLOS: Website | YouTube | Facebook | Twitter | Instagram
Watch: 2CELLOS live at the Sydney Opera House in 2016
Visit www.tegdainty.com for tour and ticket information.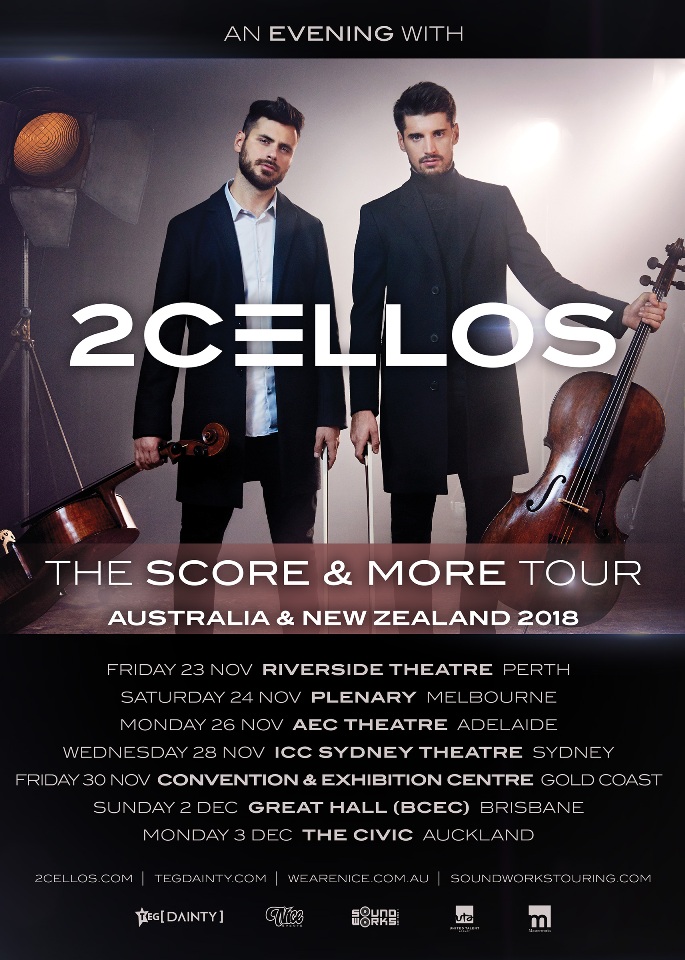 ---
The Black Dahlia Murder, Aborted, Zeolite
SOUNDWORKS DIRECT PRESENTS ZEOLITE
'NIGHTBRINGERS' Australian Tour September 21 – 28, 2018
.
Since 2001, THE BLACK DAHLIA MURDER have created a musical brute that embraces all the finest qualities of melodic death metal yet does not shackle them, giving them room to constantly evolve and grow. The latest album Nightbringer released in 2017, delivers a punishing and cutthroat form of melodic death metal with a searing visceral intensity. THE BLACK DAHLIA MURDER continue to inflict a cavalcade of riffs to the table, upping the stakes in technicality, melody, and sheer blunt force trauma.
Australia & New Zealand fans beware, they are on a mission to tear your soul apart.
Like a bulldozer ramming down a rollercoaster, ABORTED return to Australia to smash bodies without remorse, warning, or regret. Emerging from Belgium in 1995, ABORTED have crunched their way through nine full length albums playing a brand of death metal fashioned in hate, and forged with carnage in mind.
With a unique blend of death, groove and tech metal, soaked in political and social commentary, Melbourne based ZEOLITE have earned the job of getting the wrecking ball swinging.
With the ferocity of The Black Dahlia Murder and the sledgehammer force of Aborted, this 'Nightbringers' tour is going to pack far more than a punch to your chops. Tickets on sale now!!!
Sept 21st - Perth, The Hell Hole w/ Xenobiotic
Sept 22nd - Adelaide, Fowler's (The New Dead Metalfest)
Sept 23rd - Melbourne, Max Watt's w/ Blackhelm
Sept 24th - Hobart, Brisbane Hotel w/ Scoparia
Sept 25th - Newcastle, The Cambridge w/ Blade of Horus
Sept 26th - Canberra, The Basement w/ Wretch
Sept 27th - Sydney, The Factory w/ Anno Domini
Sept 28th - Brisbane, Crowbar w/ DISENTOMB
TICKETS ON SALE NOW!
PERTH – www.moshtix.com.au
ADELAIDE – www.moshtix.com.au / www.fowlerslive.com.au
MELBOURNE - http://soundworksdirect.eventbrite.com / www.oztix.com.au
HOBART - www.oztix.com.au
NEWCASTLE - http://soundworksdirect.eventbrite.com
CANBERRA - http://soundworksdirect.eventbrite.com / www.oztix.com.au
SYDNEY - http://soundworksdirect.eventbrite.com / www.factorytheatre.com.au
BRISBANE - http://soundworksdirect.eventbrite.com / www.oztix.com.au
www.tbdmofficial.com
http://goremageddon.be/retrogore
www.zeoliteband.com
www.soundworkstouring.com
www.directtouring.com
www.heavymetalmerchant.com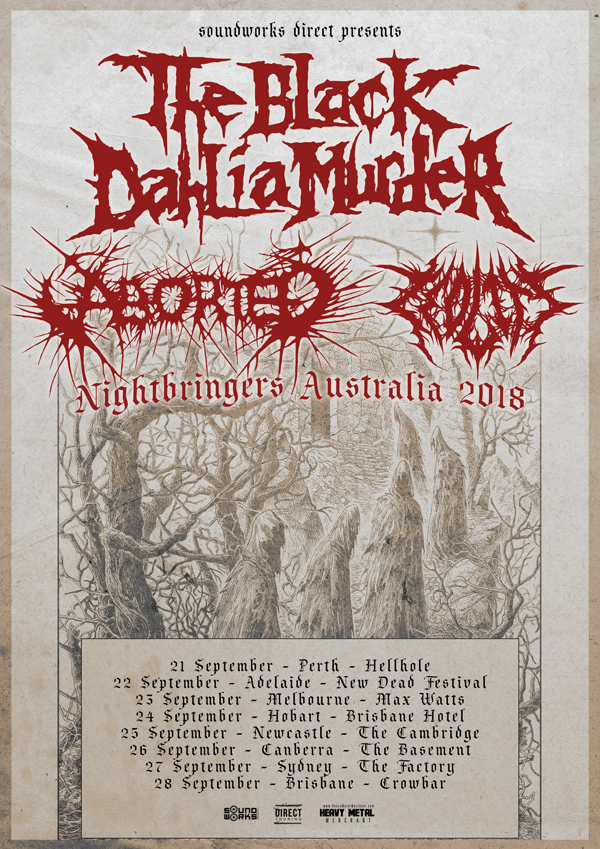 ---
Conan, Bell Witch
SOUNDWORKS DIRECT PRESENTS CONAN and BELL WITCH
Australian / New Zealand Tour, November 7th - 13th, 2018

The UK's CONAN, a monumentally brutal stoner doom three piece, hold a sinew-tight line and an iron-grip command over the uber-synchronised powerchord changes and tempo-shifts of the anti-holy trio of bass, drums and guitar. Hear the roar of battle. Smell the stench of split blood. A thousand heads piled high like a grim mound of suffering - a blasphemy to nature. Hail CONAN!
Seattle's monolithic doom metal duo BELL WITCH, bring their enormous resonances to Australia for the very first time. Utilising only bass, drums and vocals, BELL WITCH create a mournful, melodic take on minimalism and an ethereal but crushing approach to magnitude.
CONAN and BELL WITCH bring together an immense collaboration of sounds for what can be forecasted as the most titanic wavelength rumbling tour of the year.
CONAN and BELL WITCH performing at:
Nov 7th - Canberra, The Basement
Nov 8th - Melbourne, Max Watt's
Nov 9th - Sydney, The Manning Bar
Nov 10th - Brisbane, Crowbar
Nov 12th - Wellington, Valhalla
Nov 13th - Auckland, Whammy
TICKETS ON SALE NOW!
CANBERRA, MELBOURNE, SYDNEY & BRISBANE – http://soundworksdirect.eventbrite.com / www.oztix.com.au
WELLINGTON & AUCKLAND - www.utr.co.nz / https://valhallatouring.com
www.facebook.com/hailconan
www.facebook.com/BellWitchDoom
www.soundworkstouring.com
www.directtouring.com
www.heavymetalmerchant.com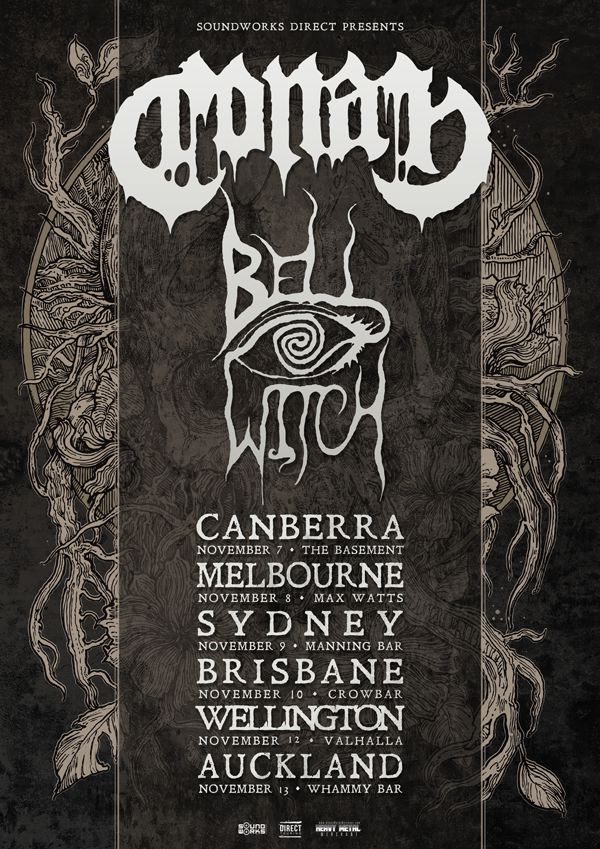 ---
AMENRA, YLVA and LO!
SOUNDWORKS DIRECT PRESENTS



Australian Tour, November 15th - 17th, 2018
There are not enough words to describe the sheer magnificence of AMENRA, a band whose powerful and unorthodox music has created waves in the metal world for almost two decades. Hailing from the eerie depths of Kortrijk, Belgium, AMENRA will bring forth the fierce, pulsating sounds of their music to consume Australia for the very first time. Known for their soul-crushing and electrifying live performances, there is no doubt of the band's genre-defying style and dynamic, combining the best of sludge, doom and post-hardcore to create music that will consume you completely.. Prepare for the most blistering, raw and hypnotic live music experience of the year for with Amenra, you can expect nothing less!
Melbourne's YLVA create some of the darkest, heaviest and most intense music in the country, heightening your senses with extreme volumes and colossal riffs. The four-piece heavy band released their debut record M E T A in 2017, a release met with immense appreciation from fans all over, as well as new signings and partnerships with Translation Loss Records in North America and Pelagic Records in Europe/Australia. With a blood-curdling intensity that will shroud listeners in a atmosphere of sludge-laden post-metal, YLVA will have you at the mercy of their music in no time.
Their passionately fierce and thunderous live shows make LO! one of Australia's favourite bands. The heavy quartet from Sydney's live performances can be compared to the way a volcano that has been dormant for many years before unexpectedly unleashing it's wrath on everything in its vicinity. The energy and dynamism that LO! Invest in their music is unmatched and this translates live into an absolutely brutal experience. LO! Launched their latest record 'Vestigial' through Pelagic Records early this year followed by a month long European Tour & have come a long way carving their distinctive niche of noisy, sludgy hardcore.
AMENRA, YLVA and LO! performing at:
Nov 15th - Brisbane, Crowbar
Nov 16th - Sydney, The Factory Theatre
Nov 17th - Melbourne, Max Watt's
TICKETS ON SALE NOW from:
BRISBANE & MELBOURNE – http://soundworksdirect.eventbrite.com / www.oztix.com.au
SYDNEY - http://soundworksdirect.eventbrite.com / www.factorytheatre.com.au
www.facebook.com/churchofra
www.facebook.com/YLVA-772237696226723
www.facebook.com/lookandbehold
www.soundworkstouring.com
www.directtouring.com
www.heavymetalmerchant.com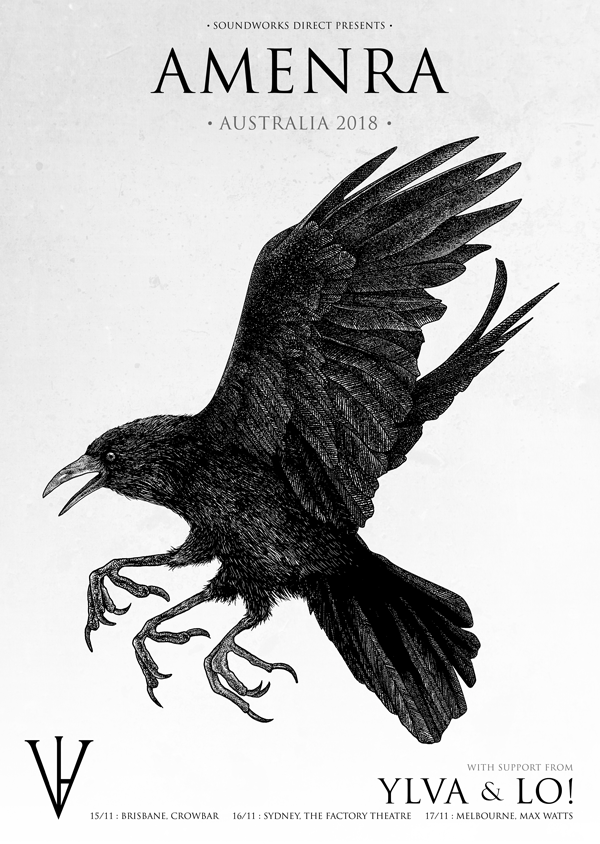 ---